Hello,
I have created my own SMTP and tested with smtper.net and gmass.co. And it worked properly with domain as well as for IP.
But when i added this smtp credential to my delivery server in Mailwizz, i am getting some errors.
Please see the below image: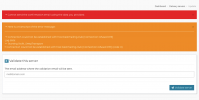 I tried to validate this server with domain hostname but facing this kind of errors.
Also i have tried with IP hostname and it works fine. I validate the email.
Even i tested with smtper.net and Gmass.co and my smtp worked properly with both domain and IP hostname.
Can someone please guide how to fix this error.
looking forward to hearing back.
Thanks