i went to misc > campaigns delivery logs i get No results found ; it has delete delivery temp errors, im not sure if i should press it,

also here are my delivery settings>cron :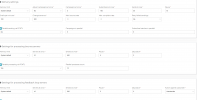 Under misc >transactional emails> i just have a record of password reset request that have been unsent............ I'm not sure what do ; i found this in the forum
i checked misc >cron history and No results found
; its obviously a problem with cron jobs not properly being read by the app or something? i had fixed the cron job errors during installation process........
im not sure where to proceed from here??? thanks anybody for help pls.
Last edited: