Hi there!
I am getting a lot of messages blocked by Gmail with the following code:
smtp;550 5.7.1 [188.240.210.16 19] Our system has detected that this message is likely suspicious due to the very low reputation of the sending domain. To best protect our users from spam, the message has been blocked.
So for what I can tell, they are fine with the IP of my SMTP server, but they don't like the sending domain.
Is it the sending domain the FROM?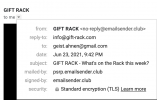 Is it important to warm up both the sending domain and the IP of my SMPT server?
Thanks a lot!